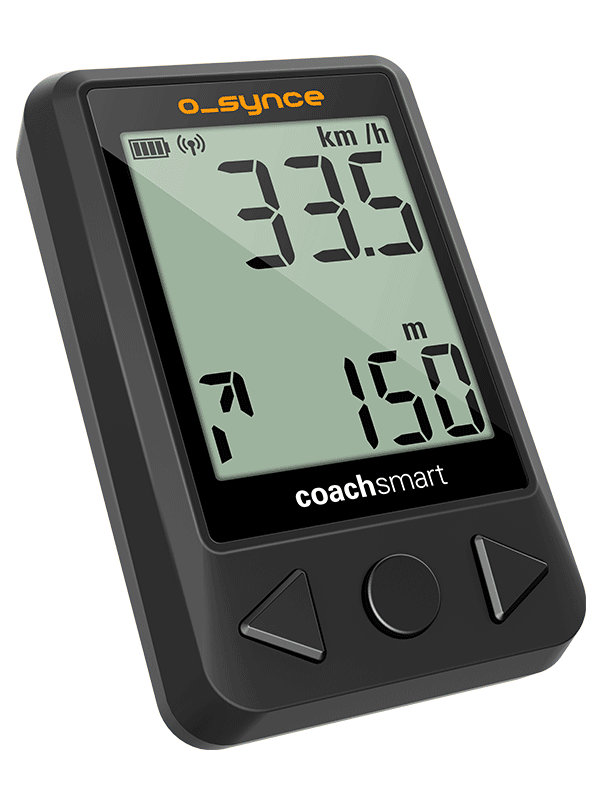 Coachsmart is a digital bike computer and a multifunctional display that is available in two different variants:
Thanks to ANT+ LEV profile, coachsmart LEV can be connected to e-bikes that support this profile, e.g. the E-MTB Turbo LEVO Series by Specialized. Due to this feature it can display the current battery level of the e-bike and the smartphone can stay safe in the backpack or in the pocket during the whole ride. That's not only smart, it saves the battery of the smartphone. Also the regulation of the motor is very easy with coachsmart LEV. There are two arrow keys on the display that can be used to switch the assist level of the motor. In this way, coachsmart LEV replaces an additional remote control.
In addition, coachsmart LEV can display your input power, which so far has been possible only to a limited extent.
The classical model of coachsmart differs from coachsmart LEV only in the firmware. Thanks to this firmware, coachsmart can be paired with common ANT+ sensors to show the transmitted data. Additionally, it can be used with electronic shifting systems like Shimano DI2, Sram eTAP or Campagnolo Super Record EPS as well. At the same time coachsmart "translates" the data transmitted by the active ANT+ sensors to any fitting Bluetooth LE device, like a smartphone or a smartwatch. It maintains even more functions in the usage with divers sport apps (e.g. o-synce Mobile, Magura eLECT etc.). While connected, it can display even more information from the app like time, GPS altitude, distance etc. and the app can record an endless amount of data & share this data with the Cloud-Service on social- and sport networks e.g. Strava.

Connectivity
Bridges ANT+ ecosystem and the BLE world, controlling both
Protection
Smartphone can be left in the bag as it is controlled by Smart MultiRemote
Energy saving
MultiRemote controls display light, volume and other settings
Additional Features & Advantages
Coachsmart and coachsmart LEV both offer the possibility to use worldwide turn-by-turn navigation with the Naviki App. Naviki is an extensive bike-app to be used for worldwide route planning and navigation for different kinds of ride purposes, including biking. The app undertakes two areas on the display, whereby the basic functions of the LEV (battery level and assist level) will remain on the display, too. While using the Naviki App with coachsmart, the smartphone can stay safe in the backpack or in the pocket and its battery run time can be extended up to 18 hours (depending on the smartphone and its settings).
Both coachsmart LEV and coachsmart weigh only 26g and they both offer a great readability due to its high contrast segment display.  They can be used with any compatible Garmin mount and they include a 3V CR2032 battery, which enables run-time of more than 300 hours (1 year). This makes the device very energy efficient.